 We are passionate about winning cases for our clients and dedicated to providing superior client service.
proven personal injury representation for river workers
At Faerber & Anderson, P.C., we have experience and reputation on our side in the representation of injured river workers. Working on towboats and barges remains one of the most dangerous occupations in this country.
From our office in St. Louis, Missouri, our firm has represented clients with a wide range of injuries sustained while on the navigable waterways of our region, including the Mississippi River, Missouri River and Ohio River.
Because only a select group of lawyers have experience in this area of the law, we have represented deckhands, pilots, mates, captains, engineers, seamen and cooks from many states, including Missouri, Illinois, Arkansas, Kentucky, Tennessee and Mississippi.
Notable Case: $1.1 Million River Worker Injury Case:
Faerber & Anderson, P.C., was able to recover a $1.1 million verdict for a barge unloader who suffered back injuries while operating a crane. View other verdicts and settlements we have won for our clients.
distinguished representation for river workers
Attorney Fritz Faerber holds the special distinction of being a Proctor in Admiralty, with advanced training in and extensive knowledge of admiralty and maritime law. As a long-time member of the Maritime Law Association, over the course of his career, he has proven that many working conditions and environments were hazardous and unsafe, requiring barge lines to compensate their injured employees.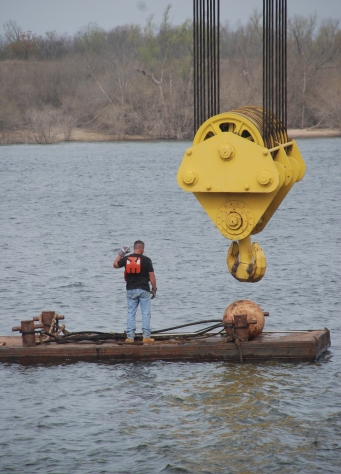 compensation under the jones act
The Jones Act provides a remedy for any maritime worker who was injured on the job while in service to a vessel on navigable waters. In order to recover, you must prove the injury was caused by negligence of your employer or fellow crew, or by the unseaworthiness (unsafe conditions) of the vessel.
Unlike workers' compensation cases, under the Jones Act, you have the right to bring a lawsuit in a civil court, with the right to recover the full measure of your damages, including pain and suffering, disability, disfigurement, full wage loss and benefits, and future wage loss or impairment of earning capacity.
We represent clients who have suffered injuries as a result of:
A fall overboard
A sinking vessel
Broken lines or poles
Ladder accidents
Repetitive trauma injuries from loading and unloading barges
Defective winches, lines and ratchets
know your rights
Fill out a personal injury report making sure to note why the working conditions were unsafe as a result of the company's fault. Make sure to ask for a copy.
You have the right to go to a doctor of YOUR choice.
Even if your employer insists on a drug test, you have the right to see your own doctor instead of the company-oriented health care facility your supervisor might strongly suggest. You are better off going to the emergency room of a local hospital, rather than the company clinic.
Do not give a recorded statement.
Everything you say can be used against you in a future lawsuit.
Protect your job.
Give your supervisor a copy of any off-work slips or light-duty restrictions. Make sure you keep a copy for yourself.